Applesauce With Cranberry Loaf Cake
Annacia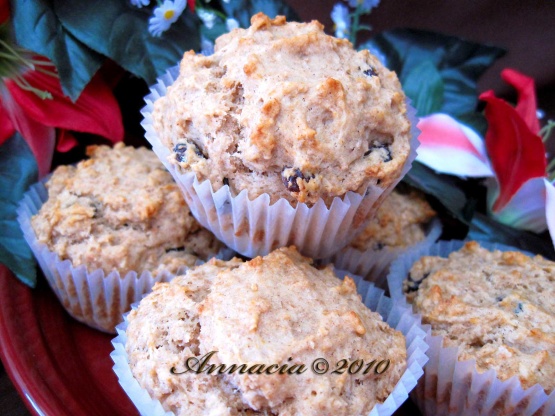 Base recipe was found in the All You Magazine but I've tweaked it to make it my own. This is a full flavored cake with a lemony glaze topping which I found to take this cake just over the top of expectations. Of course you can omit the glaze and just serve as a loaf cake for breakfast. The original recipe does not include nuts but I really enjoyed it with some chopped walnuts so I've placed that as optional to this recipe. It also called for raisins but I used Craisins instead. Please note it is very important to use a thicker applesauce for this recipe - using a thin commercial canned sauce can cause the batter to become too thin and not allow the cake loaf to rise properly while baking.

My apologies Hokies for, once again, adapting your lovely recipe to our diabetic needs. I used 50% white and 50% whole wheat flours, used a little over 1/3 cup of margarine, subbed Splenda for the sugar. I also made cupcakes/muffins as we can never finish a whole loaf of anything before it begins to grow cultures. The smaller portions go into the freezer to be used when we want them with no worries. The flavor is nicely apple spice and the texture is just lovely. Try this with Earl Gray tea! :D. Made for Photo Tag.
Preheat oven to 350F and prepare a 9x5 inch loaf pan with butter (or cooking spray) and then line bottom of loaf pan with parchment and butter the paper.
Beat butter and sugar with a mixer until light and fluffy. Beat in egg.
Stir baking soda into applesauce.
Mix dry ingredients, theen add to butter mixture in 3 additions, alternating with applesauce.
Stir in Craisins (and walnuts if using).
Pour batter into prepared pan and bake for 45-50 minutes (or until toothpick test passes).
Cool in pan on a wire rack for 10-15 minutes then turn out onto rack.
Make glaze by mixing lemon juice and confectioner's sugar and spoon glaze over cooled cake (this step is optional if you are not using it as a dessert).