Applesauce Spice Cupcakes
Sonya01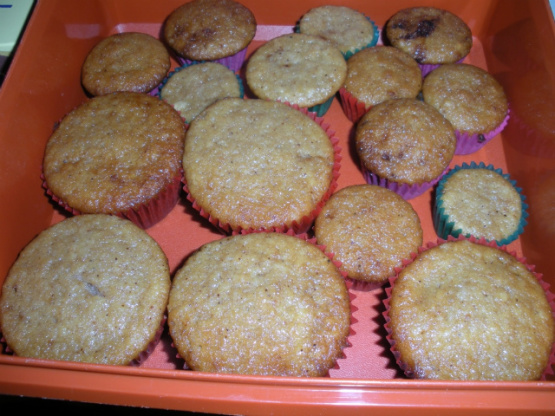 This is a TOH recipe. I've had it for several years now. This recipe makes great snack muffins for the little kiddos. It reminds me more of a quick bread than something cakey. These freeze very well. The original recipe calls for cream cheese frosting. I however have never added the frosting. The kiddos don't even notice. :)

Simple and tasty. You'll probably have better results using the tried-and-true creaming method, rather than just throwing everything in the bowl as the recipe suggests. Cream the butter, then add the sugar and whip it until fluffy, add eggs and vanilla and mix until completely incorporated. Whisk together the remaining dry ingredients, and then add them alternately with the applesauce in 2 or 3 steps. Do not overmix. I baked mine for about 18 minutes...25 minutes would likely give you burned or at least very hard, overbaked cupcakes. Tap the top of one, and if it bounces back easily without leaving an indent, they're done.
Combine all ingredients in large mixing bowl.
Mix well.
Fill greased or paper-lined muffin cups 2/3 full.
Bake at 350 degrees for 25 minutes or until cupcakes test done.
Cool for 10 minutes before removing to a wire rack.
Frost cooled cupcakes if desired.
*This can also make this cake in a 15 x 10 inch baking pan and frost.