vrvrvr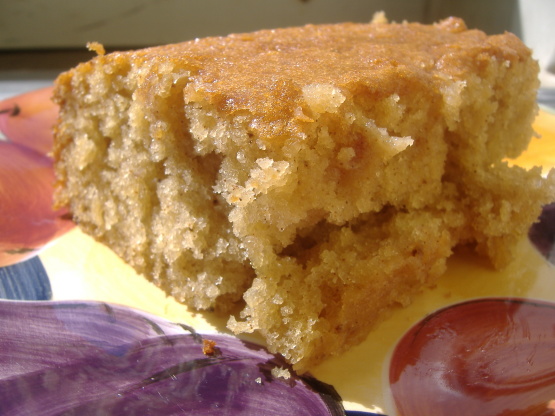 I got this recipe years ago from a cookbook. I love this applesauce spice cake with cream cheese frosting or a homemade buttercream. My family thinks this is a very good moist cake. I have used regular milk in the place of buttermilk.

Top Review by vrvrvr
Mmmmm... What a scrumptious spice cake! Just the way we love spice cakes: subtle. The spices do not knock you over the head with this cake. I used 1 stick of butter in place of the margarine and shortening, and I added 1/2 t. salt to the batter. Also I mixed this together using a more conventional method (i.e., creamed butter and sugar until light and fluffy; added eggs and vanilla, then dry ingredients alternating with the buttermilk, and mixing in the applesauce last.) I used unsweetened applesauce. I don't think this cake even needs frosting -- it's perfectly moist and irresistible straight from the oven. Love this!! Thanks!
In a bowl mix the first 8 ingredients.
Add the buttermilk, margarine, shortening,and vanilla.
Beat with an electric mixer on low for 2 minutes and then on high speed.
Add the eggs and beat again.
Pour in a 13x9x2 greased cake pan.
Baked on 350 for 30-35 minutes.
Cool and frost.