Applesauce Oatmeal Muffin-Tops (Or Muffins)
~Nimz~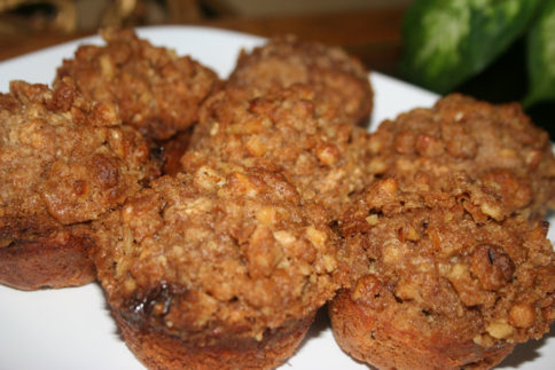 Great for breakfast, snack or a brown-bag lunch. Adjust baking time accordingly if making regular muffins. Original recipe comes from William and Sonoma, however I've made a couple additions. UPDATE: The recipe has been changed to incorporate suggestions from reviwers. UPDATE #2: Also changed the instructions to reflect the previous changes.

These were great. I used the whole egg option and added the flax seed. I did not add the raisins as I was out of them. I really liked the fact that the recipe uses applesauce and not oil. Thanks for the recipe.
Topping:.
Struesel Topping:.
In a small bowl, combine all the struesel ingredients and stir until well combined and crumbly.
Muffin-Tops:.
Soak the oats in milk for about 30 minutes.
Preheat the oven to 400 degrees.
Spray muffin pan with cooking spray.
Combine the applesauce with the egg.
Mix the oat mixture with the applesauce mixture, and stir until combined.
In a separate bowl measure and whisk the dry ingredients together.
Add wet ingredients to dry and mix until just combined.
Stir in raisins or craisins.
Do not over mix the batter or the muffins will be tough.
Spoon approximately 1/2 cup of muffin mixture into muffin-top pan.
Sprinkle streusel on top.
Bake until golden brown and the top springs back, approximately 15-20 minutes.
Remove pan from the oven and allow to cool for 5 minutes before removing muffin-tops to wire rack to cool.
Best served fresh from the oven.