Applesauce Oatmeal Cookies
Prep 10 mins
Cook 10 mins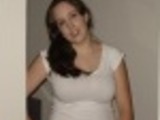 I got this from a friend, they sound delish!
Directions
Cream sugar and shortening.
Add eggs. Add baking soda to applesauce and then add to mixture.
Sift flour and spices together. A.
dd to mix. mix well.
Add oatmeal, nuts, chips, and raisins.
Stir gently until moistened. Drop by spoonfuls onto greased cookie sheet.
Bake for ten minutes at 325 degrees.
Most Helpful
AWESOME cookie. It has bits of everything in it LOL I didn't use nuts but will next time. I made half the recipe and ended up with 3 dozen cookies. These would make a GREAT cookie for lunch bags to replace those store bought granola bars. This will be a definite addition to our family cookbook. Thanks for posting I used this recipe for "My 3 chefs"challenge 2008

Very yummy cookies. I used Recipe #492442 for the applesauce and ask for spice. they came out soft and delicious. DH has already scarfed a huge handful. I didn't add any nuts as DH doesn't like them and we are both very happy with them. I replaced all sugar with Splenda in both recipes.

This recipe was perfect. I doubled the recipe cause Iwas making a snack for my 1st grader to take as a snack . When doubled it made alot! but its ok my whole family loved them and the best part,I have enough batter for the entire week! They are sooooo soft almost like little cakes. I added the raisins and choclate chips.! thanks for this recipe!