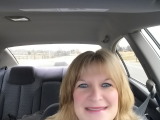 This is from a cookbook I have called the Healthy Heart Cookbook. I work in cardiology so I like to submit recipes that taste good and are still somewhat healthy. This is delicious!!!!!!!!!!
Directions
Heat milk in a heavy saucepan until hot.
Stir in oats, cooking 5 minutes or until thickened, stirring occasionally.
Add applesauce and remaining ingredients.
Cook 1 minute or until thouroughly heated, stirring occasionally.
Most Helpful
5 stars! We loved this. I love oatmeal that's cooked in milk and the addition of the applesauce is genius. Thanks for sharing the keeper recipe!

This is really good! I made mine in the microwave, just one serving, and added about 1/2 tbsp. white sugar along with the 1/2 tbsp. brown sugar. I'm not so sure I needed to though because this particular oatmeal sweetens up really easily. Like some others have said, I think I could eat two "servings" of this. I also think I might use this recipe with varying levels of applesauce to adjust the sourness depending on my mood since i tend to be more sensitive to it than most. Thanks for another wonderful oatmeal recipe to add to my collection!

This was pretty good! I made it with only 3/4 cup water, instead of the 1 cup milk... It's lighter with the water and I prefer it thicker. Left out the vanilla and added just a sprinkle of salt (enhances the flavors). Wonderful breakfast, easily done in the microwave, too! Oh, yes...makes one large serving. Thanks for the idea!!