Applesauce Oat Muffins for 2
karen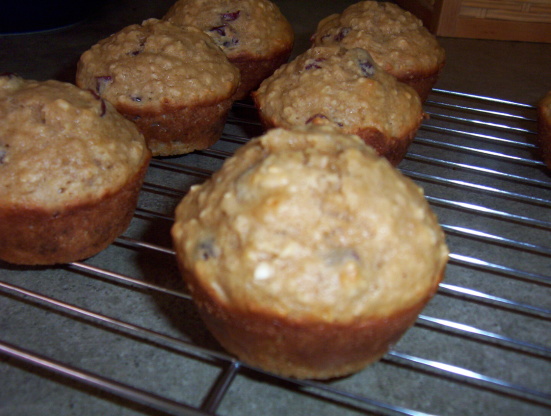 When trying a new recipe, making up a whole batch of muffins & then not really caring for the flavor or texture or both is pretty annoying. Here's a little quickie I picked up that only makes 4 muffins; healthy ones to boot. Almost like a try before you buy deal.

I was craving a muffin and did not want to make a whole batch so this was perfect. I used evaporated milk and instant brown sugar oatmeal (cut sugar to 1 tablespoon). I just finished one straight out of the oven and it was very good, with a nice spring to it. Let me know if you have anymore muffin recipes for two! Update: great with frozen blueberries. Update: I've made these muffins several times now and LOVE them. They have a slightly spongy texture and lots of apple flavor. Once I was out of the egg and used powdered egg whites (for two eggs) and they turned out wonderfully, too. Roxygirl
Preheat oven to 400ºF. Coat 4 regular size muffin cups with cooking spray.
Combine flour, oats, brown sugar, baking powder, cinnamon & salt.
In another bowl, mix the egg, milk, applesauce & oil. Stir into dry ingredients just until moistened. Don't over mix or the mufins will toughen up.
Fill prepared muffin tins 2/3 full.
Bake for 12-15 minutes or until a toothpick comes out clean.
Cool for 5 minutes in pan. Remove to rack.
Serve warm.