A good bread that I love to make during the autumn months. The smell and taste are both out of this world. It mixes up quickly and makes a great gift.
Directions
Combine first 5 ingredients in mixing bowl and beat for 1 minute.
Combine remaining ingredients except nuts and add to applesauce mixture beating until smooth.
Stir in nuts.
Spoon into greased loaf pan and bake at 350 degrees 40-45 minute.
Allow to cool in pan on rack for 10-15 minutes, then remove from pan and continue to cool on rack.
Most Helpful
This was a nice mild quick bread that is not very sweet. The only change I made was to use buttermilk in place of the milk, but the quantity isn't enough to get the tanginess. This did take 65 minutes to bake, but it did bake evenly. The batter is very thin, and I was concerned that it would overflow the 9x5-inch loaf pan I was using while baking. However, it was fine and the edges were not overcooked.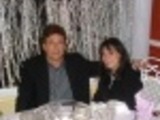 Sherrybeth - I used this recipe and just made it into muffins instead of a loaf. Baked up perfectly in 20 minutes in the oven. A nice light texture of the actual muffin and tons of flavor! I may have been a bit more generous with the cinnamon and nutmeg then you called for because I LOVE those spices. Received 15 perfect standard size muffins! Made in honor of your win in Week 2 of Football Pool in the Cooking Games with Friends forum! :)
This was very easy to put together, however it took almost an hour to bake. The center just wouldn't firm up and the edges ended up almost burned. I also could not pick out the spice taste, so I think the cinnamon should be increased. Needless to say, I was disappointed, because I served it to company for dinner. I probably will not repeat this recipe. Thanks.