berry271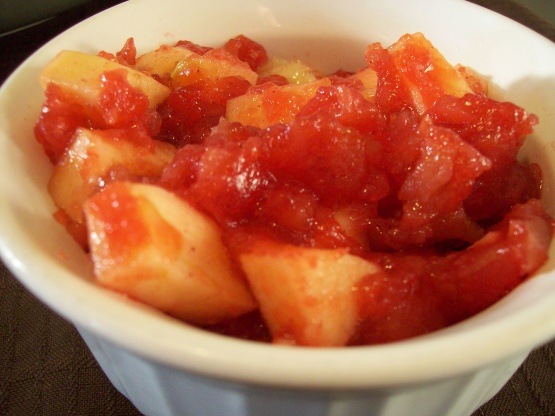 My mom made this, minus the apple chunks, when we were sick or as a special treat. The applesauce adds a great texture, kids love it, and if they don't like fruit, they'll still usually eat this! In fact, without the chunks or the cinnamon, it's a great treat for toddlers. I make it with cinnamon applesauce and the apple chunks as a side for holiday meals.

Made this tonight for our "dessert." We added apples and bananas (as another reviewer suggested), and enjoyed it. The only change I would make would be to check the Jello after 1 hour or even maybe 30 minutes to see if it is set enough to add the fruit. I waited the 1 1/2 hours suggested and it was pretty well set already, so I would like to add it earlier next time.
Dissolve gelatin into boiling water in a LARGE bowl (you're going to want the room when you add the other ingredients to prevent splashing).
Add applesauce all at once.
Stir until thoroughly mixed.
Pour into an 8 by 8 casserole or a shallow dish, and cover.
Refrigerate until partially set (about 1 1/2 hours is good).
Stir in apple chunks, if desired.
Refrigerate an additional 1 1/2 to 3 hours, until set.
This recipe will not set quite as firm as traditional gelatin.