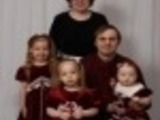 My mom made this, minus the apple chunks, when we were sick or as a special treat. The applesauce adds a great texture, kids love it, and if they don't like fruit, they'll still usually eat this! In fact, without the chunks or the cinnamon, it's a great treat for toddlers. I make it with cinnamon applesauce and the apple chunks as a side for holiday meals.
Directions
Dissolve gelatin into boiling water in a LARGE bowl (you're going to want the room when you add the other ingredients to prevent splashing).
Add applesauce all at once.
Stir until thoroughly mixed.
Pour into an 8 by 8 casserole or a shallow dish, and cover.
Refrigerate until partially set (about 1 1/2 hours is good).
Stir in apple chunks, if desired.
Refrigerate an additional 1 1/2 to 3 hours, until set.
This recipe will not set quite as firm as traditional gelatin.
Most Helpful
Made this tonight for our "dessert." We added apples and bananas (as another reviewer suggested), and enjoyed it. The only change I would make would be to check the Jello after 1 hour or even maybe 30 minutes to see if it is set enough to add the fruit. I waited the 1 1/2 hours suggested and it was pretty well set already, so I would like to add it earlier next time.
Thank you so much for this recipe! I have fond memories eating this as a kid. I had a craving for this for a few days. Since I'm almost 6 months pregnant my hubby thought I was just making up this thing for applesauce and jell-o. Well he had it for the first time last night and he really enjoyed it! This was the perfect texture. I made it with strawberry gelatin & regular applesauce. I opted not to add the apples and it was just as I remembered! Now I can share this with my daughter and hopefully she'll have the fondness for it that I have. :)
Yummy and easy. I had one apple and one pie crust I wanted to use up. So I decided to make this recipe into tarts. It worked well, but you need more than one pie crust to make 24 tarts. So have of the tarts were just in mini muffin papers and that worked too, you just squeezed them into your mouth. I added cinnamon to mine because it wasnt very sweet with the plain applesauce that I had (probably unsweetened). And everybody liked them.