hmms1660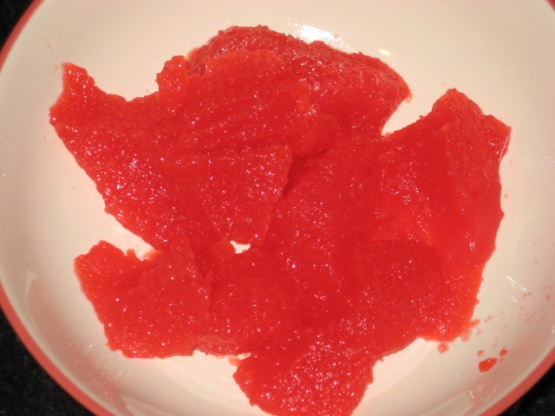 This is a delicious sweet treat. Jell-O with a twist. I always make it with sugar-free strawberry Jell-O and Musselman's light applesauce, but I'm sure it's good with any red Jell-O

This dessert was ok, but I wasn't sure if I should give this recipe 3 or 4 stars. My husband said it wasn't a bad dessert, but advised me not to make it often. When making the dessert, I did use a (.03 oz.) pkg of sugar free strawberry jell-o gelatin, and used 2-(4 oz.) containers of regular sweetened applesauce. Also, I only used 1 cup of boiling water, which helped to thicken up the gelatin. It only took a few hrs for it to thicken up. I served this dessert in 4-(4 oz.) custard cups. In the future I'll most likely be making this dessert for myself, but I look forward to using other flavors of sugar free jell-o gelatins. Thank you hmms, for posting the recipe.
Dissolve Jell-O in boiling water.
Add applesauce and stir.
Refrigerate.