Applesauce Cake for Diabetics
Annacia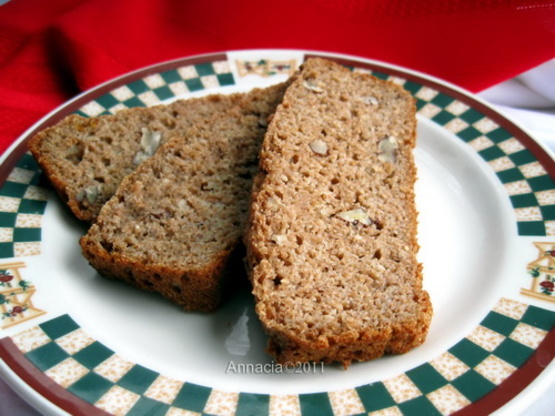 Diabetics don't have to give up desserts! This is low in sugar. If you don't want the sugar in the Craisins, rinse them a little in cold water and drain. This removes some of the sweetener on them. Or use raisins instead. Dry buttermilk powder can be found in the baking section of the store. It is great to have on hand for baking. This was adapted from a recipe in "Desserts for Diabetics", by Mabel Cavaiani. NOTE: This is a low-rise cake, like a snack-cake or brownie.

I honestly cannot imagine why it's taken me so long to make this delicious recipe. I used natural bran and edited the spice to 1 tsp cinnamon, 1/2 tsp mace and 1/4 tsp cardamom and skipped the cranberries. This mixes up in almost no time and mine was perfectly baked at 40 mins. This is a real keeper. Made for Photo Tag.
Pre-heat oven to 375°F.
Coat a 9"x5" loaf pan with notfat cooking spray.
Place All-Bran, Egg Beaters, oil, Splenda, water, brown sugar and applesauce in a mixer bowl. Stir to blend and let sit 30 minutes. (Don't skip this step!).
Stir remaining ingredients (except nuts and Craisins) together in a medium bowl to blend. Add to bran mixture and mix on medium speed to blend well. Add nuts and Craisins.
Spread batter evenly in pan and bake about 45 minutes, or until wooden pick inserted in center comes out clean. (Do not overbake breads or cakes made with Splenda or they will dry out too fast!).
Cool in pan 10 minutes and then remove from pan to wire rack; cool to room temperature.
Cut into 14 equal slices.