Pamela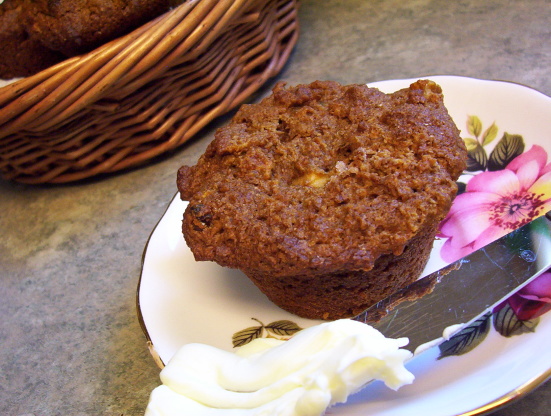 A healthy tasty breakfast muffin with lots of good fiber.

Oh my this recipe came at exactly the right time. I am trying to clean out the fridge (because we go away for the winter) and needed to use up some odds and ends. This recipe must have been made for me. Thanks for making my leftovers healthy.
In a bowl, add the bran cereal, milk, applesauce, molasses, oil, and eggs; whisk together to combine.
Let stand for 5 minutes.
In a large bowl, add the flour, baking powder, baking soda, and salt; stir to combine.
Add in the raisins and apple; toss to coat.
Add the bran mixture to the flour mixture; fold in until dry ingredients are just moistened; do not overmix.
Spray muffin cups with nonstick cooking spray.
Pour batter evenly into muffin cups.
Bake in a preheated 400 degree oven for 20-22 minutes or until a pick comes out clean.
Cool on a wire rack before removing from the pan.