Apples With Crunchy Topping
-Sylvie-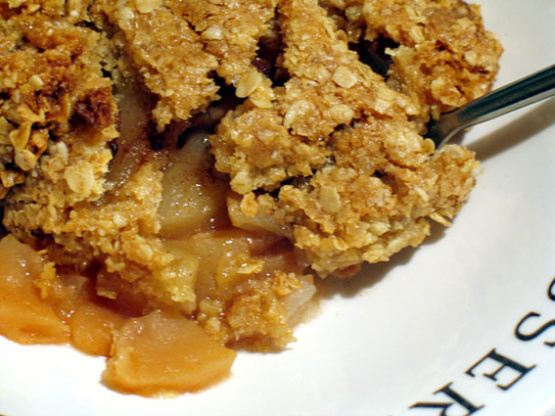 This is DH's favorite apple (or other fruit) crisp. I've made it with pears, peaches, apricots, cherries, strawberries, blueberries, blackberries and combinations. It is easy, fast, and makes great leftovers. It is from the Betty Crocker 1954 Cookbook.

My DH and I both thought this recipe was a keeper! It was quick and easy... very simple, but YUMMY! I was out of quick cooking oats, so I substituted with two packets of instant apple & cinnamon oatmeal. It was very good. We served it warm with french vanilla ice cream. YUM!
Peel, core and slice apples thinly.
Spread apples in a greased 8-inch round pan and sprinkle with cinnamon.
Combine oats, sugar, flour and butter.
Strew mixture evenly over apples.
Bake at 350°F for 35 to 40 minutes.
Serve warm with ice cream, whipped cream or cream.