Applebee's White Chocolate Walnut Blondie
GaylaJ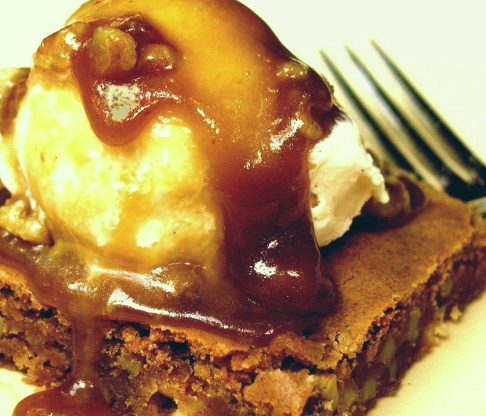 Life is short - eat dessert first! (Copycat recipe - posted by request)

Oh Miller - this is good - really good!! This tasted almost identical to the applebees one that I order - and pay an arm and a leg for - when I go to applebees. I had to use salted butter as I did not have unsalted - but it turned out fine. I did add the walnuts to the sauce as well - tasted great! Thanks for posting!!
Preheat oven to 350º.
Sift flour, add baking powder, baking soda, and salt; sift again.
Add chopped nuts; mix well and set aside.
Melt unsalted butter; add brown sugar and mix well.
Add egg and vanilla; blend well.
Add flour mixture, a little at a time, mixing well.
Stir in white chocolate chips.
Spread in a 9x9x2-inch pan.
Bake for 20-25 minutes or until a toothpick inserted in center comes out clean or with slightly fudgy-looking crumbs.
Serve with vanilla ice cream and maple butter sauce.
---To Make the Maple Unsalted butter Sauce---.
Combine syrup and butter, cook over low heat until butter is melted.
Stir in brown sugar until dissolved.
Add walnuts, if desired.