Applebee's Style 3 Cheese Chicken Penne
AnnaMaeS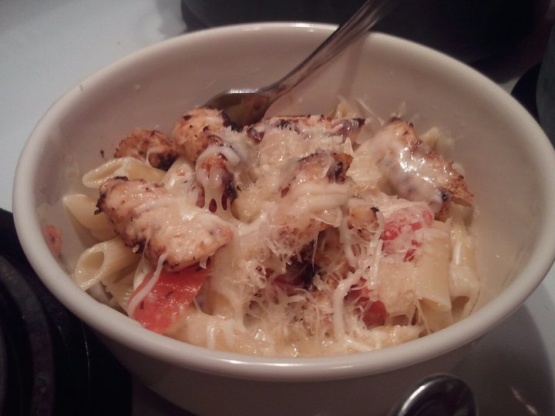 A just wonderful Penne dish with Italian cheese and grilled chicken. Very simple but surprisingly good. This based on a recipe is from Hub Pages Restaurant food at home it is extremely well done.

This recipe was very close to the real deal! I had to improvise a bit and made my own homemade alfredo sauce with homemade heavy whipping cream. And I only had macaroni noodles instead of penne. Next time though. Thanks for the recipe!
Chop Chicken and marinade in Italian dressing for 30 minute.
Chop tomatoes, add oil chopped Garlic and basil to make bruschetta. Set aside.
Cook Penne in boiling water.
Grill or broil Chicken.
Divide pasta between two microwavable bowls.
Pour Alfredo sauce.over the pasta in each bowl.
Layer on Bruschetta.
Add a layer of Chicken.
Add a layer of shredded cheese.
Microwave for 3 min, or longer if previously chilled till cheese is melted.
Serve with Garlic bread.
Can be prepared well ahead of time in individual bowls, then Microwaved thoroughly.
NB. I have edited this recipe from the original post. Thanks to JFitz who kindly pointed out I had omitted to include the Garlic in the Bruschetta. JFitz also added the that she cooked the meal in a casserole dish, in the oven. I have done this successfully also, but I have failed at it by using low quality shredded Italian 3 cheese mix. Always use fresh.