Applebee's Garlic Mashed Potatoes (Copycat)
PaulaG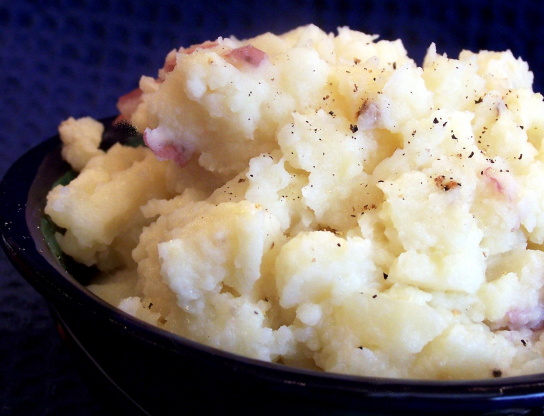 Applebee's has THE best mashed potatoes. I found this knock-off recipe on e-cookbooks.net. We had it last year for Christmas and it was just heavenly.

These are the best!!! I love these mashed potatoes and since i got pregnant they are all i want to eat but can not afford to go to applebees so much they taste just like applebees!!
Place a single layer of garlic cloves on a sheet of heavy-duty aluminum foil and wrap tightly.
Roast in 400F degree preheated oven for approximately 45 minutes or until soft.
Unwrap and let cool until touchable.
Peel cloves and mash with potatoes when they are ready.
Wash and rinse potatoes under cold water.
It is not necessary to peel potatoes, unless you desire.
In large sauce pan (or pot), bring red potatoes to a slow boil for approximately 20 minutes.
Remove from heat and drain in colander.
In pan or bowl, combine potatoes, peeled and roasted garlic cloves, and all other ingredients and mash with a potato masher.
Keep warm.