Apple Walnut Tart With Date/Nut Crust
geowmn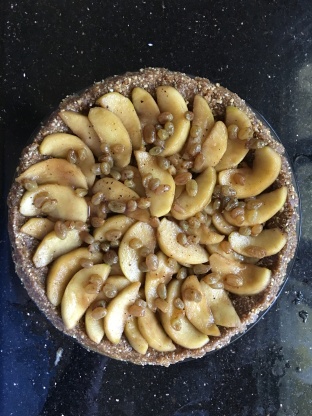 This comes from The World's Healthiest Foods website. It is indeed very good for us and it tastes wonderful! Prep time does not include chill time. Your home will smell heavenly while you are cooking the apple mixture!

OUTSTANDING!!!!!!!!!!!!!!!!!!!!!!!!!! Oh I am so happy to have found this recipe.I am being a bit naughty with rating it as I used slightly different ingredients.Used prunes instead of dates and only had natural no sugar apple sauce which I heated up with cinnamon ,plums and strawberries.A dash of lemon juice and a dash of rose water.Also no honey. Next time I will do it exactly to the recipe but I was so keen to try I did it with what I had. The taste was amazing.I did not miss the usual flour eggs and sugar in my normal puddings.My 11 year old loved it too.It tasted so decadent.I will make again soon. Thankyou thyankyou so much.I do have a sweet tooth and am trying to eat healthier and due to breastfeeding I was told to eliminate dairy and soy as my poor 6 month may have allergy to them. THANKYOU THANKYOU!!!!!
First make the date/nut crust -- best to do in 2 batches in your blender or food processor.
Add 1 1/4 cups walnuts with 1 1/4 cups dates in blender or processor and pulse for 40 secons until coarse. Remove and add the remainder of nuts and dates and repeat process.
Press in 9-inch tart pan. Put aside.
Tart Directions:.
Squeeze the juice of 1 lemon and add to the 2 Celsius water.
Slice cored apples into fourths. Slice crosswide into 1/4 " slices.
Put in lemon water and drain in a colander when all apples are sliced.
Place apples in a large skillet and add the apple juice, honey, raisons, cinnamon, allspice, and cloves. Cook about 10 minutes over medium heat, stirring frequently.
Remove apples with a slotted spoon to a bowl and cool completely.
Reduce liquid to about half. Remove from heat and cool.
Spread apples over crust. Brush syrup over the apples. Chill at least 2 hours.
Enjoy!