A quick & healthy way to start the day. You must love apple! I always add extra walnuts because I love them and sometimes a little milk over the top.
Directions
In a saucepan, combine apple, apple juice, oats, cinnamon and salt.
Bring to a boil over medium heat; boil for 1 minute, stirring occasionally.
Remove from the heat; stir in walnuts, honey and vanilla.
Cover and let stand for 5 minutes.
Reviews
Most Helpful
Loved oatmeal done this way! This might be my new "go to" breakfast oatmeal. Thanks!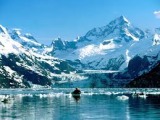 Made this for breakfast yesterday and it was a big hit! We loved it! The only thing I did different was I added more cinnamon because we love cinnamon. This was a very satisfying oatmeal. Great way to start the day! Thanks for sharing this recipe. Its a keeper. Made for Veg N Swap Fall 2009

This made a great breakfast! I scaled the recipe down for one person. I also used old fashioned oats and just cooked a little longer, using just a little more apple juice. Thanks! Made for Vegetarian Swap-April-2009.