Linky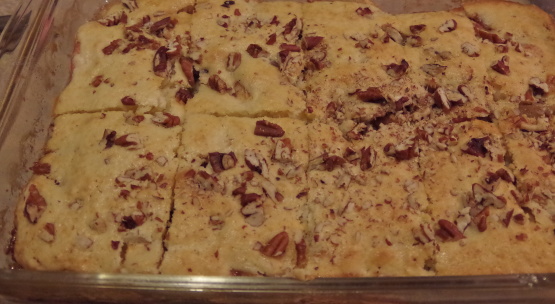 This quick and easy cobbler is wonderful served warm and topped with vanilla ice cream.

Top Review by awalde
I doubled the quantity of apples and walnuts as I have a lot at the moment to use.<br/>We loved the combination with walnuts and added spices. <br/>This Cobbler is a really easy recipe that most love, fast to prepare and super delicious!<br/>Thanks a lot for posting this recipe.<br/>Made for Culinary Quest 2014
Preheat oven to 325F degrees. Grease an 11"x7"x1-1/2" pan; set aside.
Arrange apple slices in greased pan. In a small bowl, combine 1/2 cup walnuts, 1/2 cup sugar, cinnamon, and nutmeg; sprinkle over apples.
In a medium bowl, combine flour, 1 cup sugar, baking powder, and salt.
In a small bowl, stir together egg, evaporated milk, and butter or margarine. Add egg mixture to flour mixture; stirring until blended. Pour batter over apple mixture. Sprinkle with remaining 1/4 cup walnuts.
Bake, uncovered, for 55 minutes. Serve warm topped with vanilla ice cream, if desired.