Apple Topping for Pancakes, Waffles & Such
Silke 2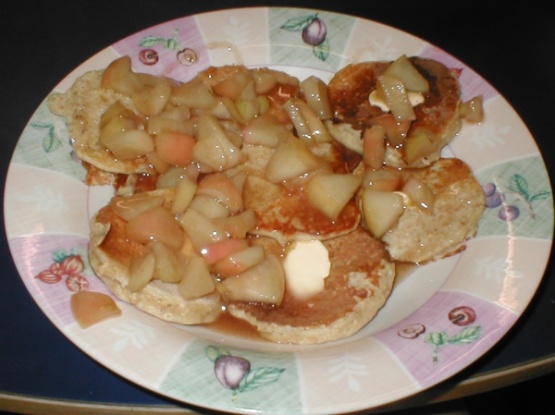 A cinnamon-y fruit topping that tastes great over pancakes, waffles, oatmeal, etc. From the Black Dog Inn B&B in Estes Park, Colorado. Mix and match different kinds of apples for a more robust flavor. Also good with a few raisins or dried cranberries thrown in; just make sure to add a little more water or juice to allow them to plump up enough.

I thought that this was wonderful and was exactly what I was looking for. I live overseas where it isn't possible to get pancake syrup (or the common ingredients for making your own). I have been trying to find something yummy to put on pancakes using local ingredients. I used apple juice rather than orange juice. Also, I found that the topping wasn't as thick as I wanted so I added 1 tbsp of cornstarch (mixed with 1 tbsp of cold water) after the apples were softened and continued to cook the mixture uncovered until it thickened. Absolutely delicious!
Place all ingredients in saucepan.
Bring to a boil, reduce heat, and simmer until apples are tender, approx 15-20 minutes. Add more water as needed while simmering.
Softened apples can be left chunky or processed in a blender for a smoother sauce.
Return to pan and add brandy as desired.
When ready to serve on pancakes, re-heat and top with applesauce and whipped cream.