Apple & Toasted Pecan Muffins
Annacia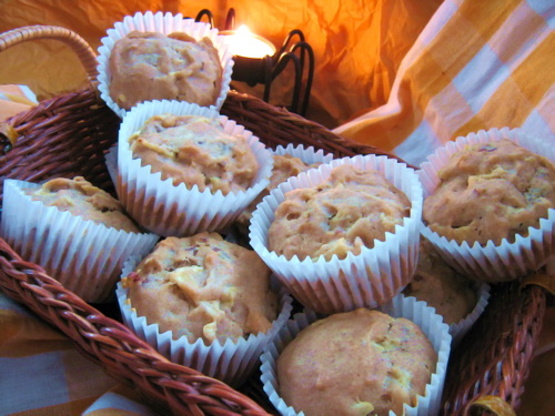 Nice, crumbly type muffin with an addicting taste. You can get 2 dozen regular size muffins or about 4 dozen mini muffins. The original recipe suggests baking for 20-30 minutes, but I like these done a little more so they get crispy around the edges.

I made these as written. I think that there was way too much oil in the recipe. By the time I went to get the second batch ready for the oven, the oil had pooled around the remaining batter. The paper liners from the first batch are all greasy. When I tested the first batch, the toothpick came out clean. I just tasted one. Although the flavor is good, the muffin didn't taste like it was done. I was hoping that to take these to a brunch today but these are too iffy for me to give out. :(
Mix together four, sugar, salt, baking soda and cinnamon in a large bowl.
In another bowl, combine eggs, oil and vanilla.
Add egg and oil mixture to the dry ingredients and stir until moistened.
Fold in apples and pecans.
Fill greased & floured or paper lined muffin tins about 1/2 full.
Bake for 30-35 minutes at 350°F or until wooden toothpick inserted in the middle comes out clean.