Apple Sweet Potato Scallop
Kree6528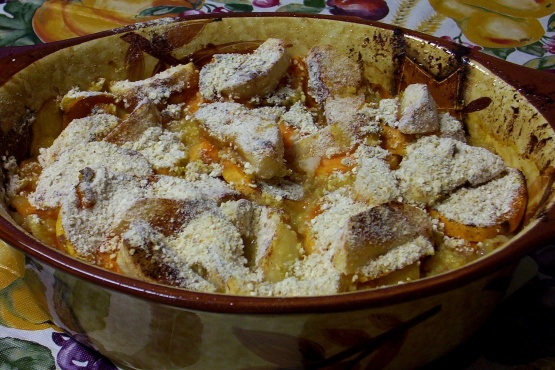 This is the perfect side dish on a chilly Autumn evening. The apples give it just the right amount of sweetness, and it smells heavenly cooking. I actually cooked this in a smaller oval casserole dish and used 2 sweet potatoes and 3 apples, so obviously the amounts are very flexible. Just reduce the other ingredients and make sure you use enough OJ so that it covers about 2/3 of the sweet potatoes and apples. Yum! I got this wonderful recipe from my friend Shell Marr.

Top Review by sprue
since i love both apples and yams this was pretty good but it took a lot longer than an hour to cook and it didnt have much flavor. we added some cranberry sauce to it and it was a lot better but without a little bland. still a great combination that i will probably make again using different dressings.
6

apples, peeled and sliced (if your apples are small you may want at least one more)

6

sweet potatoes, peeled and sliced

1

cup orange juice

1

grated orange, zest of

1

teaspoon cinnamon

1

cup crushed corn flakes or 1 cup breadcrumbs
nonstick cooking spray
Spray a 9x13-inch baking dish with non-stick cooking spray.
Place alternate layers of sweet potatoes and apples in baking dish, ending with apples.
Pour orange juice and zest over mixture and sprinkle with cinnamon.
Bake, covered with foil, in preheated 375 degree oven for 40 minutes.
Remove foil, top with crushed cereal or bread crumbs, and spray with non-stick cooking spray.
Bake 15 to 20 minutes more until brown.