oriana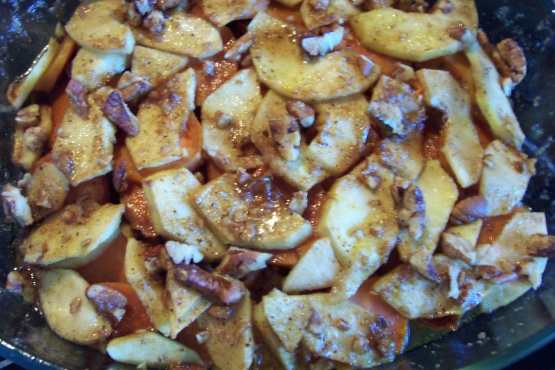 Another good recipe for those holiday meals, or anytime your in the mood for sweet potatoes. My mom has also made this with fresh pumpkin and it's delicious also.

This tasted great, but it didn't "look" as I expected it to. I guess I would have liked a bit more liquid or something to help everything "mush" together. Perhaps I just cooked it too long... Still it was a great Thanksgiving sweet potato dish.
In a greased 1 1/2 quart baking dish, layer half of the sweet potatoes and apples.
Combine brown sugar, nutmeg, allspice, salt, pepper, and walnuts (if desired); sprinkle half over apples.
Dot with half the butter.
Repeat layers.
Cover and bake at 350° for 15 minutes.
Baste with pan juice.
Bake, uncovered, 15 minutes longer or until apples are tender.