karenury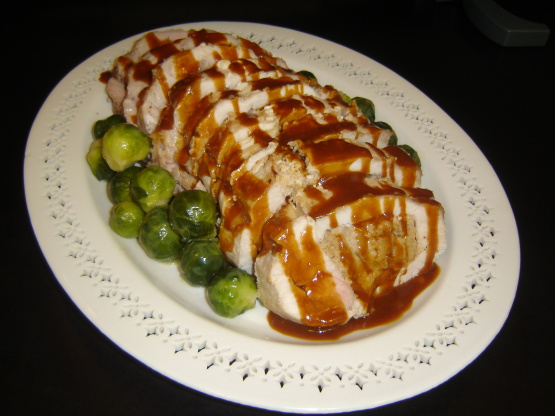 This is an adopted recipe. Winnipeg *Mel* served this to us and I thought it was great so when it came up for adoption, I snagged it. Original introduction>>> "Delicious Apple Stuffed Pork Roast. Pretty simple too."

I'm giving this 5 stars although I did make some changes. I butterflied the roast and didn't have raisins so I used fig chutney which worked great. Added a little cinnamon and fresh sage to the marinade. I then rolled it up jellyroll style, tied it and baked it. It was awesome!
With a knife sharpener, poke a hole through the roast to make a tunnel.
Then take a knife and cut through until the hole is wide enough to stuff.
In a large bowl, mix together apple juice and brown sugar.
Place roast in bowl and turn a few times.
Let sit in fridge fat side up for about an hour.
In the meantime, peel and dice apples.
Start making stuffing, adding apples and raisins before adding the stuffing mix so they get soft.
Let apple stuffing cool while the pork in in the fridge.
Preheat oven to 350°F .
Line a roasting pan with heavy duty foil.
Remove pork from fridge and Pour some of the marinade into the foil lined pan.
Just enough to coat the bottom.
Discard the rest.
Start stuffing the roast.
It's easiest to use your hands.
Make sure you stuff it way down so you don't forget the middle.
Bake about 20 minutes per pound - 170 degrees using a meat thermometer.
Remove from oven and let stand 10 minutes.
Carve 1 1/2 inches wide.