Rita1652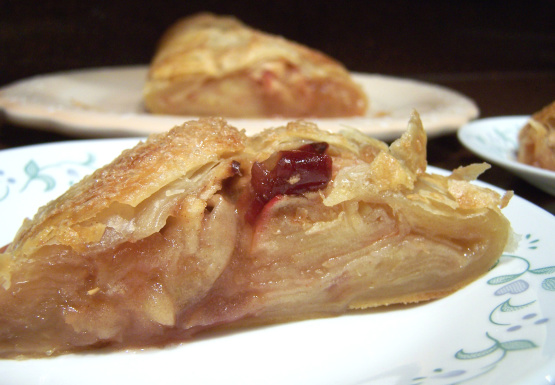 This is made easy with store bought puff pastry. I used a mix of dried nuts and dried fruit but you can use either or.

What a lovely recipe this is. I had puff pastry in the freezer and DH was coming back from a week-long business trip today, and I decided to make this for dessert - and it was the perfect choice. Very easy to assemble, excellent directions. I used candied citron and a tiny bit of preserved ginger for the mixed dried fruit, but no nuts. I think I'd add up the cardamom next time to a 1/3 of a teaspoon - just a little more - but enough to make the flavour come through bigger. Thanks, Rita. :-)
Preheat the oven to 375°F
Beat the egg and water in a small bowl with a fork or whisk.
Stir sugar cinnamon, lemon juice, salt, nuts, vanilla, and flour together.
Mix in apples gently.
Unfold the pastry sheet on a lightly floured surface. Roll the pastry sheet into a 16 x 12-inch rectangle. With the short side facing you, spoon the apple mixture onto the bottom half of the pastry sheet to within 1 inch of the edge. Roll up like a jelly roll. Place seam-side down onto a baking sheet lined with parchment. Tuck the ends under to seal. Brush the pastry with the egg mixture. Cut several slits in the top of the pastry. Sprinkle with 1 teaspoon sugar.
Bake for 35 minutes or until the strudel is golden brown. Let the strudel cool on the baking sheet on a wire rack for 20 minutes.