RotiJala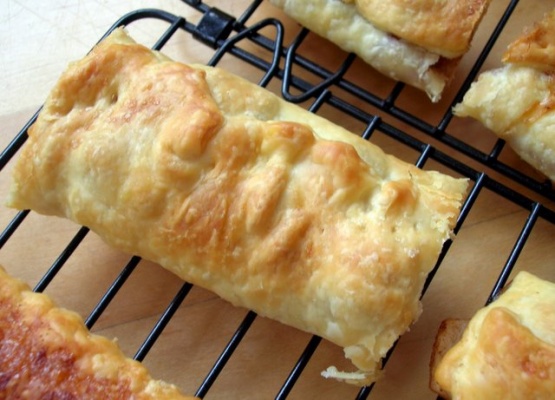 This makes a really tasty dessert. The cinnamon complements the apples nicely.

I used the dough recipe for a different apple strudel filling--the other dough was impossible to work with! To echo the other reivew, this dough is super easy to work with and has a texture that is like a cross between pie crust and shortcake--very tasty, but a little different. Definitely a keeper (that saved my dessert)! Thank you!
Strudel: Sift together flour, baking powder, 2 tbsp.
sugar and salt.
Mix in the shortening.
Stir in the milk to make a soft dough.
Knead 25-30 times on a lightly floured board.
Roll out 1/4" thick.
Brush with melted butter.
Cover with the apples.
Sprinkle with remaining 2/3 cup sugar, and the cinnamon.
Starting at the long end, roll up like a jellyroll.
Put it on a greased cookie sheet.
Curve into a crescent shape.
Bake about 30 minutes at 325F.
or until done.
Frosting: Combine confectioners' sugar, cinnamon, butter and evaporated milk.
Frost the strudel while still warm.
Sprinkle with the nuts.