awalde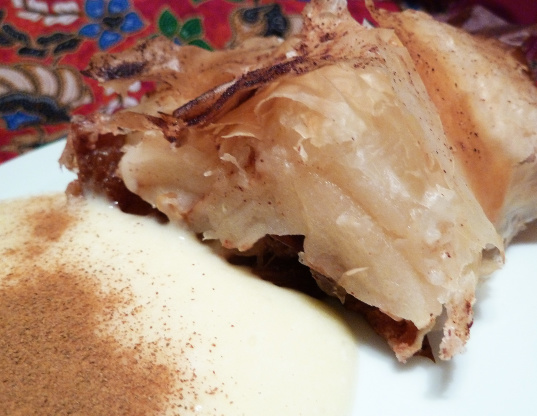 A nice easy diabetic friendly dessert which I think would be worthy to serve to company from Australian BH&G Diabetic Living.

Top Review by awalde
Everything turned out well... after initial problems!
As I opened the fillo bag, I found broken sheets! Fold and cut them was impossible!
As I do not have cooking spray and I use oil with brush this was a challenge.
I used 4 sheets trying to close the holes!
I prepared my fresh apples in the microwave (I do not use the canned ones as I have so many fresh ones).
I used ready custard from the shop but I added some brandy to them.
At the end we got a delicious strudel. We enjoyed this warm with the fresh custard and it was de-li-cious! So yummy!
Note: I will prepare canned apples for this recipe!
Preheat oven to 180C fan forced.
Line a baking tray with baking paper.
Place 1 pastry sheet on a clean surface and spray lightly with cooking spray and then top with another pastry sheet and repeat spraying and layering with remaining pastry sheets to form a stack.
Cut the pastry stack into 4 equal rectagles and place 1/4 of the apple slices along one of the long sides of one of the pastry rectangles and then top one quarter of the raisins and sprinkle with a little of the cinnamon.
Fold in the short ends of the pastry and roll up to enclose filling and place on the baking tray and then repeat with remaining pastry rectangles, raisins and a little of the cinnamon.
Spray the tops of the pastry rolls with cooking spray and sprinkle with the remaining cinnamon and bake for 15 minutes or until the pastry is golden.
Cut the strudels in half and pour the custard over to serve.