momaphet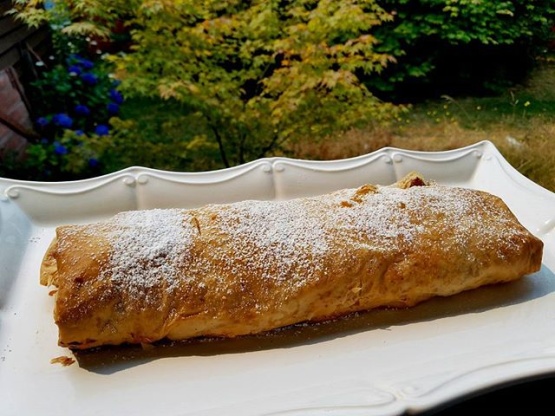 A yummy recipe from Beyond Parsley cookbook. This makes 2 strudel rolls. If you're not familiar with phyllo dough. It can be delicate. I unroll the phyllo sheets and keep them covered with a slightly damp, clean kitchen towel - taking out 1 sheet at a time to work with. This keeps your phyllo from drying out. Use a pastry brush to spread the melted butter on the phyllo sheets.
This strudel is delicious and easy to make! I cut the recipe in half and used 21 oz. of granny smith apples . The sugar was the perfect amount - not too sweet. I used the full amount of cinnamon and an extra pinch of nutmeg. I was low on walnut so used walnuts and pecans in the filling and ground almonds between the phyllo layer. Made for Culinary Quest 4 by one of the Spice Girls
Sprinkle the apple slices with the lemon juice and toss to coat completely.
Combine sugar, cinnamon, nutmeg and chopped walnuts. Add this mixture to the apples and combine gently. Set aside.
Brush one sheet of phyllo dough with some melted butter; sprinkle with a fine layer of the ground nuts.
Place second sheet directly over the first sheet and brush with butter and sprinkle with another fine layer of ground nuts.
Repeat this procedure until there are 5 sheets.
Then place half of the apple/walnut mixture along the long edge of your prepared phyllo , fold over extended sides of sheets (to cose ends) and roll like a jellyroll.
Repeat that process to make one more strudel.
Place strudels seamside down on a buttered (or sprayed with Pam) cookie sheet and then brush the strudels with a little more of the melted butter.
Score the tops.
Bake 30-40 minutes at 375 degrees F. , or until golden brown.
Dust the strudels with confectioners sugar , slice and serve warm!