WiGal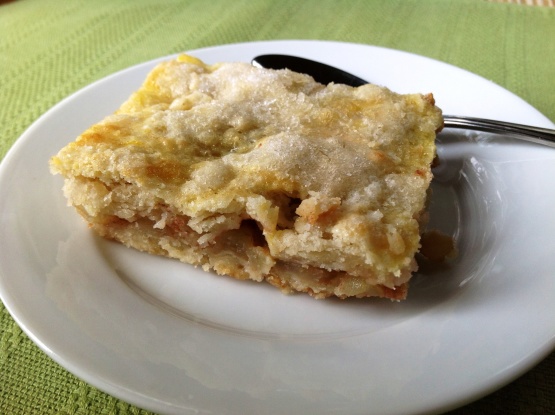 Bar-sized apple pie. When I make this recipe, I sub greek yogurt for the sour cream and add more than stated - until it is a good texture to roll. Also, I roll between 2 sheets of waxed paper, peel the top piece, lay back down, flip over, peel the other sheet and flip onto pan.

Top Review by WiGal
Nice recipe with potential, but I had difficulty with crust, it was dry. I could not roll it so used fingers to flatten. After making, looked at a similar recipe-old one of my mother's-- I would next time separate egg and put beaten yolk into dough, and if was still dry I would add milk. Wish I could suggest amount but her recipe does not use sour cream. I would brush beaten white onto top crust. Used parchment for bottom crust eliminating one transfer, and for the top crust knew that I could not transfer it neatly so squeezed dough between fingers and then applied it in sections. Thank you sheepdoc for sharing.
Preheat oven to 350.
Sift flour, salt, and 1/4 cup sugar.
Cut in butter and lemon rind.
Sprinkle sour cream over mixture and mix with fork until moist enough to stick together.
Divide dough in half. Roll out half on waxed paper to 15x10". Turn over onto ungreased jelly roll pan or baking sheet. Peel off waxed paper.
Bake at 350 12 minutes.
Prepare filling - mixed chopped apples, sugar, flour, cinnamon, and lemon juice. Spread over baked crust.
Roll out remaining dough into 15x10" rectangle on waxed paper. Turn over onto apple filling.
Brush with egg and sprinkle with sugar.
Bake at 400 degrees for 25-30 minutes.
Cool, cut into 3 1/2 inch squares.