Lvs2Cook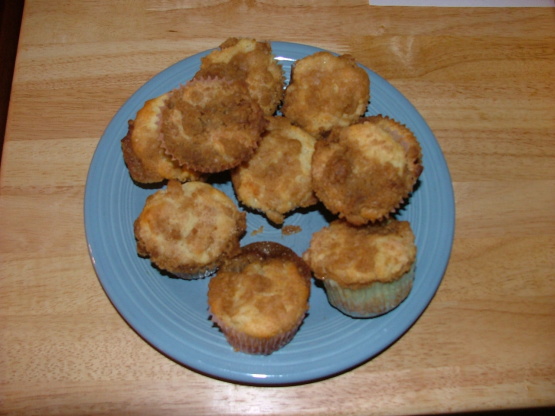 This is a recipe from an old Company's Coming recipe book of my mom's. It is so simple, uses up bruised apples, and tastes great. *Note* It is not a typo, it really is 1 tablespoon of baking powder.

I made these and Apple Cinnamon Muffins #122939 (which were very yummy) I wanted to make two recipes to compaire them. My 7year ol son said "tell the cooker these are YUMMY! I give them 10 stars!" Which I think sums it up well! The muffins were light and flavorful and the topping was a wonderful addition! Although I think next time I will make half the topping, we didn't use all that the recipe called for. Thanks for the post!
Topping: In small bowl rub together the first amounts of sugar, butter, cinnamon, and flour until crumbly.
Set aside.
Muffins: In large mixing bowl whisk together second amounts of flour, sugar, baking powder, and salt.
Make a well in the center.
In another bowl beat egg, milk, and cooking oil to blend.
Stir in apple.
Pour wet mixture into well of dry mixture.
Stir just until moistened.
Fill greased muffin cups 3/4 full.
Sprinkle with topping.
Bake in 400 F (200 C) oven for 15 to 20 minutes.