Apple Streusel Coffee Cake
Pixie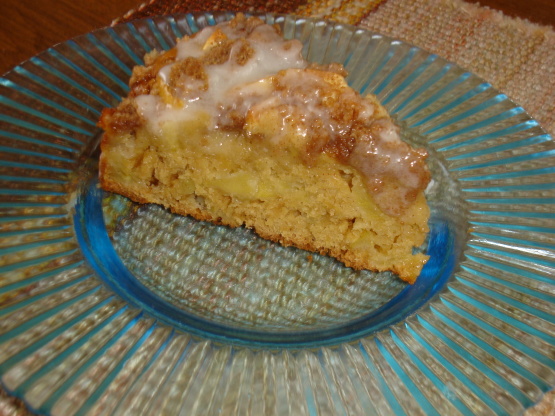 This lovely coffeecake is not only topped with delicious apples, but also a wonderful streusel topping crowned with a powdered sugar glaze as well. This recipe was adapted from CooksRecipes.com

We loved this so much I have made 4 of them in the last couple of months! Change up the fruit with raspberries, blueberries, strawberries etc. for a change of pace. Delicious!
Preheat oven to 350°F
Grease a 9-inch round cake pan.
In a small bowl combine flour and baking powder.
Beat eggs, milk and vanilla in another small bowl.
In a large mixing bowl combine sugar and butter; beat with an electric mixer on medium speed until creamy.
Alternately add flour mixture and egg mixture, beating well after each addition; end with flour mixture.
Spread into prepared cake pan.
Arrange apples on top, gently pressing into batter.
Bake for 20 minutes.
While the cake bakes, make the streusel topping by combining flour, powdered sugar and cinnamon in a small bowl.
Cut in remaining 2 tablespoons butter until crumbly.
To make the glaze: mix together powdered sugar and enough water to form a smooth consistency that is just thin enough to drizzle; set aside.
When the cake is ready, sprinkle top with streusel topping.
Bake for 15 to 18 more minutes, or until toothpick inserted near center comes out clean.
Cool in pan on wire rack.
Drizzle with powdered sugar glaze.