Apple Streusel Cheesecake
PumpKIM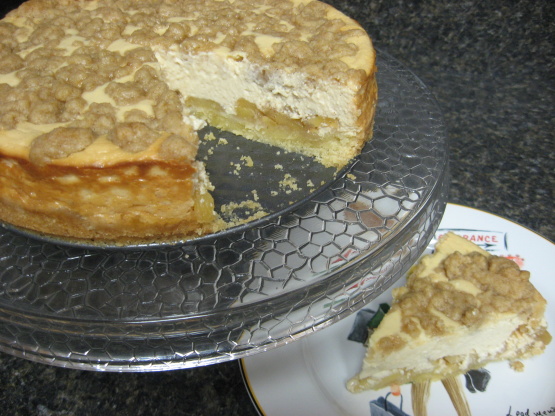 This is yummy & a nice change from the usual chocolate, cherry, etc. cheesecakes.The crust is a nice change also from the graham & chocolate ones. A tip that was listed is that you can make this ahead of time, pop it in the freezer,ready to serve for up to 3 months! Store right in the springform pan covered in plastic wrap and just thaw in the refrigerator when ready to use.

Top Review by Beeks
I was going to post this recipe but you beat me to it. This is simply one of the best cheesecakes I have ever made. It's like an apple crisp and cheesecake all in one. I made it for Christmas last year and it didn't last long. I find it quite addictive, I kept eating little pieces all thru the night.
Heat oven to 350.
For the crust: Cream butter& sugar thoroughly, blend in flour.
Press onto the bottom and 1/2 inch up the side of a a greased 9 inch springform pan.
Bake for 12-15 minutes or until slightly golden.
For the filling: Peel, core& halve the apples.
Cut into 1/3 inch thick slices.
In frypan,melt sugar with butter over medium heat,cook apples for 3-5 minutes or just until tender (and lightly browned) but not mushy.
Add cream and cook stirring occasionally for 5 minutes.
Set aside.
In a large bowl beat cream cheese with brown sugar until smooth.
Beat in eggs one at a time until just blended.
Beat in sour cream,lemon rind& juice.
Using a slotted spoon arrange apples over crust,cover with cheese mixture.
For topping: Mix the ingredients until crumbly.
Sprinkle over filling.
Bake 45 minutes or until centre is just set.
Cool thoroughly at room temp.
Chill at least 4 hours or overnight.