Debbwl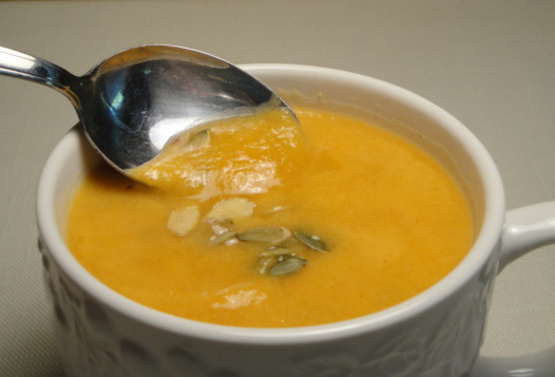 What a delicious Fall soup this is - fantastic for Thanksgiving!!

This soup was SO good. I am recently allergic to onion and garlic and have been convinced I couldn't find a good soup without those ingredients. Needless to say, I left them out of this recipe and it was still amazing! I did saute some chopped celery in the first step instead. I didn't have any thyme so I just left it out. I toasted the squash seeds with some olive oil and salt and garnished the soup with them. It was perfect. I didn't think my husband would like it, but he had 2 bowls!
Heat oil over medium heat in a stock pot or a large pot. Add onions and garlic and cook gently 2-3 minutes or until soft and fragrant.
Add squash, sweet potato and apples. Stir to combine. Add next 5 ingredients. Bring to boil. Reduce heat, cover and simmer for 30 minutes or until squash is very tender.
Purée soup. Return to low heat for 5 minutes to warm soup. Stir in evaporated milk. Taste and adjust seasoning if necessary.