CoffeeB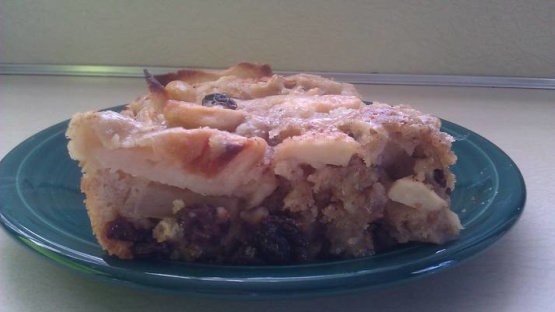 This is one of my adopted recipes that has been updated. The original directions were not very well written but this is a nice recipe for apple squares.

Top Review by awalde
I needed a huge quantity of cake, so I tripled this recipe and I used a mold of 35 to 45 cm. I used walnuts and apples from the garden. To finish the cake and for the presentation I added a thin layer of glaze (powdered sugar, condensed milk and brady) and I topped it with some walnuts and raisins. Super delicious had been apprdciated very much. I loved the wonerful result and the fat low recipe. Thanks a lot for posting! Forgot to say: Do to the quantity I had to bake it for about 50 minutes.
In a large mixing bowl, sift together the flour, sugar, baking powder, salt, and nutmeg. Add skim milk and egg whites to dry ingredients and beat well.
Add apples, raisins, nuts, brown sugar and cinnamon to a small mixing bowl. Mix well to combine and layer in the bottom of baking dish. Spread dough on top, making sure apples are covered.
Bake at 350 degrees for 20 to 30 minute's or until apples are tender and dough is golden brown. Let cool and serve.