Apple Spice Cake with Brown Sugar Glaze
Dorel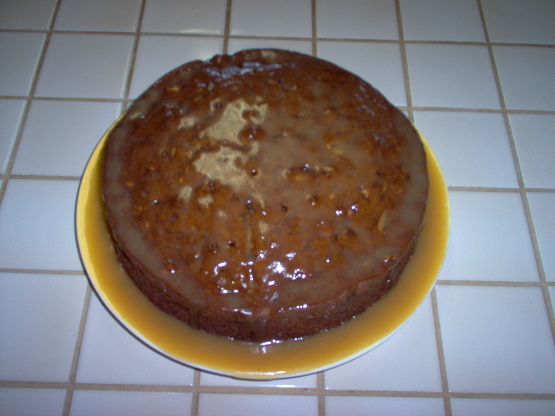 This is a very simple and quick apple cake that I make time and time again. Great on it's own - even better with a little dollop of freshly whipped cream. Make sure you let the glaze thicken well and SLOWLY pour the glaze onto the cake, giving it time to soak in.
Heat oven to 350 degrees.
Butter a 9" spring form pan.
Place all cake ingredients into bowl of mixer.
Beat on lowest speed until apples are in 1/4" chunks and their juice has thinned the batter slightly.
This takes about 3 minutes.
Pour batter into prepared pan and smooth the top.
Bake in the middle of the oven until a toothpick inserted in the centre comes out clean- about 50 minutes.
Let the cake cool slightly.
Unmold and poke the top of the cake all over with a meat fork.
Pour glaze over the warm cake, letting the excess run down the sides.
Cake can be decorated with more chopped walnuts or pecans.
To Prepare Glaze: Put all ingredients into small saucepan and bring to a simmer, stirring, over low heat.
Simmer until the sugar dissolves, about 1 minute.
Let cool until slightly thickened- about 7- 10 minutes.