DuChick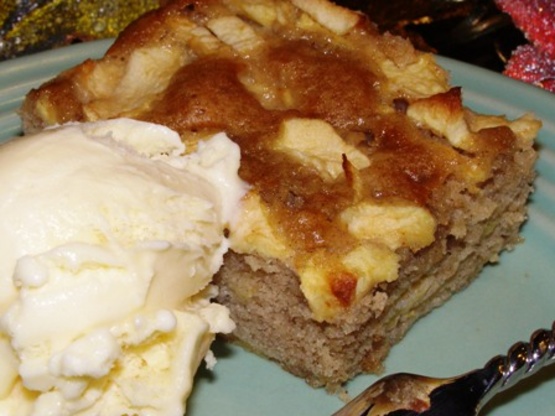 This is a simple yet delicious apple cake. A short list of ingredients make it a snap to put together. Don't let the small amount of batter scare you, it does rise up and fill the pan nicely. I think it would be great with cool whip or ice cream and served warm. Enjoy!

What a wonderful, not-too-sweet dessert. It mixes up in a hurry and is scrumptious paired with ice cream! I wanted to fill an 8x8 square dish, so I increased the amounts by 1/2, then added another 10 minutes onto the baking time. Great, clear instructions. Next time, I might add some chopped walnuts. Thanks for sharing, Pardeemom!
Preheat oven to 350 degrees.
Spray a 8" round baking pan with cooking spray.
Chop up your apples.
Beat the eggs in a small bowl until fluffy.
Combine sugar, flour, baking powder and cinnamon in a bowl. Whisk together.
Combine wet and dry ingredients together.
Sprinkle 1/2 apples in bottom of pan.
Pour over batter. It will be thick and you'll have to work it around the pan with a spatula.
Sprinkle remaining apples on top and sort of press them down into batter.
Bake for approximately 25 minutes or until golden.