Apple Slices With Goat Cheese and Pistachios
awalde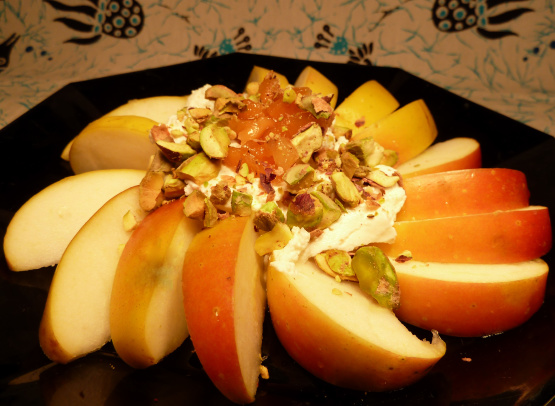 Whole Story blog readers were asked to submit their best holiday appetizer for less than 50 cents each piece. Here's their favorite, from Jo R., who got her recipe printed in The Whole Deal value guide and received a $50 gift card. This easy to assemble appetizer features the winning combination of creamy goat cheese, tart apples, rich nuts and tangy ginger.

Yum! So nice with all the textures and flavors! I loved the crispy apples, tangy goat cheese, sweet/spicy ginger and the salty pistachios! I put mine together at the last minute, so no lemon juice was needed. And they were scarfed down so quickly, there wasn't time for them to brown! Thanks for sharing a great eye-appealing recipe, Sharon!
Spread 1/2 teaspoon goat cheese onto the end of each apple slice and then arrange on a platter.
Sprinkle cheese end with pistachios and candied ginger; serve.
If not serving right away, to avoid browning, toss apples with a splash of lemon juice(you could even use lemon lime soda!) before assembly.