Bev I Am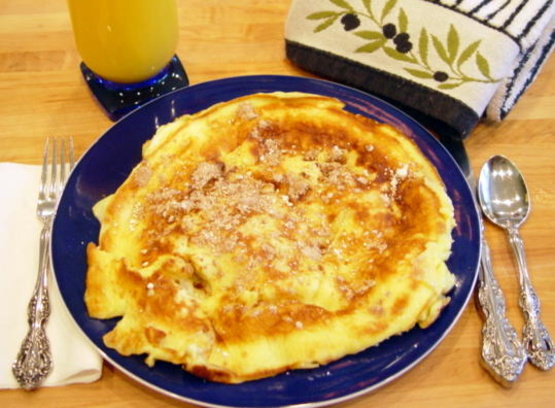 This is a great treat for breakfast, and it's so good for something so easy. Use a non-stick pan for the best results. I found it in a magazine I had picked up at a dollar stores years ago. It's a pancake. No, it's apple bread pudding. No, it's Apple Schmarren! A Note: Bev, who made and reviewed this recipe, gave her technique for turning the Schmarren in one piece. It tastes great either way, but if you have the time and patience, I would suggest Bev's technique. It's a much nicer presentation!

I had never heard of Apple Schmarren before I found this recipe. If you have never tried it, I suggest you do for a real breakfast treat! I prepared this without the raisins only because I had none in the house. I used the only non-stick pan in my kitchen, which happened to be a crepe pan, which worked perfectly for this amount of batter. If you will look at the photo posted above you will see that I prepared this as one piece instead of allowing it to break into pieces. I used two very flexible spatulas to flip, and it worked out well. The sweetness of the apples gives this recipe a wonderful flavor. I loved the cinnamon-sugar topping, but I also think a bit of real maple syrup may work well also! This recipe will serve two very hungry people easily! Love this recipe, Montana Roux! Thanks for sharing it with Zaar!
Prepare the cinnamon sugar by mixing 1 tbs. of confectioner's sugar with 1 teaspoons of cinnamon.
Set aside.
In a medium bowl, combine flour, sugar and salt.
Add the milk and eggs and whisk until smooth.
Add the apple slices and raisins, and stir to mix well.
In a 10-inch non stick skillet, heat the butter or margarine until it just begins to sizzle and spread it around the bottom of the pan.
Pour in the batter all at once and fry.
Don't stir and turn too often, as you want it to brown nicely on both sides, and break up just a little, so you have large pieces.
When done, remove to plates and sprinkle each serving with cinnamon sugar.
Depending on your taste, you may not use all the cinnamon sugar, so just save it for another time.
This makes 2 small servings, or one large.