Apple Salsa With Cilantro and Lime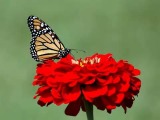 A nice change from a tomato-based salsa. Sounds refreshing! *Prep time does not include 30 minute refrigeration time.
Directions
Combine apples, onion, chile pepper, (jalapeno pepper, if desired), lime juice, cilantro, black pepper and salt in a large bowl; mix well. Cover with plastic wrap and refrigerate at least 30 minutes or overnight. Serve with tortilla chips.