Apple Salad With Pomegranate Molasses
awalde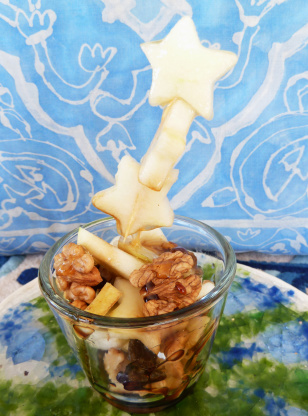 Delicious and fancy like. "What does pomegranate molasses taste like?... It has that deep, grown-up flavor similar to espresso that makes food taste more sophisticated. But it's not bitter and that makes it totally different in my eyes than regular molasses, which I haven't managed to love yet even though I tried hard." Modified from a fruit salad recipe found on http://www.dinnersanddreams.net.

Top Review by awalde
Wonderful apple dessert! Today I prepared this as snack between meals, I could not wait until dinner.
I wanted to prepare something beatiful for you, so I found that this recipe could be a great option. After cutting apples I dipped the pieces in salted water to preserve the color (1 teaspoon salt in about 1 liter water).
With Chritmas cookies mold I cutted off stars. I had pomegranate molasses and honey I used our own honey as we are beekeeper.
Thanks a lot for your healthy and tasty recipe!
Combine all of the ingredients in a mixing bowl.
Chill. (If you prefer don't, but we like it chilled).
Enjoy!