SusiePie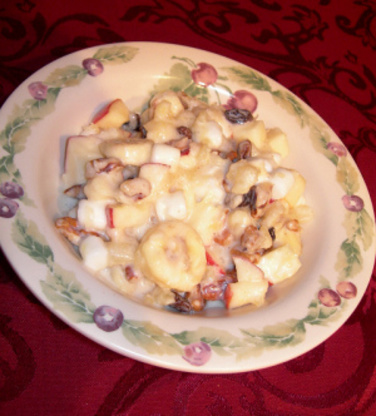 This is my mom's recipe, it is quick & easy to make. tastes great as a salad or as dessert, color is very nice. Great for a large group, makes a huge bowl full.

I have made this salad several times and am always surprised at the number of finicky skeptics that that frown at the combination of ingredients, only to taste it and find themselves asking me to make their very own bowl of this delicious salad!!! I have added a couple of ingredients to give it a bit of a savory twist: I add a little shredded sharp cheddar cheese and instead of using raisins, I add red seedless grapes. Really delicious! Thanks for this incredibly simple yet tasty fruit salad, Dawn.
Put all ingredients in LARGE bowl in order listed, stir well to blend.
Refrigerate until cold and serve.