Rita1652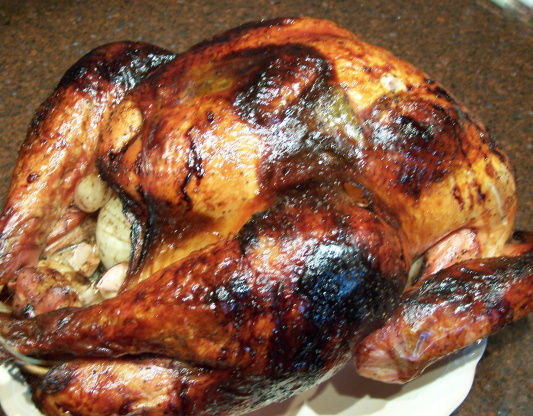 This is a typical sage roasted turkey with a little bit of an extra punch. This attractive turkey also lends itself to a fantastic gravy.

I loved the taste and tenderness of this recipe. This was part of menu #26073. Used Recipe #90601 adding apple korn schnapps. Used 2 large apples and added a large onion halved, and garlic cloves filling in the cavity of the turkey. Saved 6 thin sliced of apple and placed them under the skin along with the sage leaves. Loosely covered with foil,A MUST because the sugar in the jelly will brown quickly. I roasted at 325 degrees F., using a meat thermometer to get a perfect doneness. Removed the turkey when it reads 165 degrees F. in the thickest part of the thigh meat. Here is an approximate turkey cooking time guide for roasting at 325 degrees F. from the USDA: 8 to 12 lbs: 2 3/4 to 3 hrs 12 to 14 lbs: 3 to 3 3/4 hrs 14 to 18 lbs: 3 3/4 to 4 1/4 hrs 18 to 20 lbs: 4 1/4 to 4 1/2 hrs 20 to 24 lbs: 4 1/2 to 5 hrs While roasting, I basted with the liquid a couple times. I also suggest keeping water in the bottom of the pan because all the basting liquid will brown or burn. As I craved the turkey found the dark skin gotten soft so I place it under the broil skin side down then flipped and ended up with a yummy crisp skin every one fought over.Thank you for a great recipe.
In small saucepan over medium heat, stir 1/3 cup apple cider, jelly, and butter until the mixture is melted and smooth.
Remove from heat.
Rub the turkey inside and out with the 2 tablespoons apple cider and sprinkle with salt and pepper.
Gently loosen the skin over the entire turkey breast by inserting fingertips between skin and flesh.
Slide as many sage leaves as you want under the skin and place the skin back in place.
Stuff the neck and body cavities of turkey loosely with apple wedges and some more sage leaves, making sure to reserve a few for garnish.
Close both cavities with skewers.
Truss the turkey and brush with cider mixture.
Roast according to weight.
Serve the turkey garnished with reserved sage leaves and additional apple slices.