Calee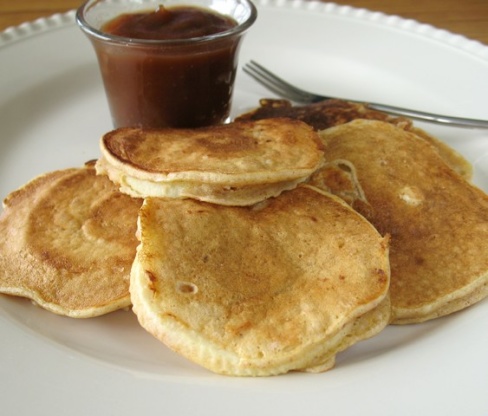 I haven't tried these yet, but they sound interesting. I think the recipe might have originally come from Pampered Chef. If you try it, let us know how you like it!

Top Review by Calee
Wow this is amazing. I had enough of the pancake batter to do more than one apple. I used the cinnamon and also added 1/2 tsp apple pie spice. The batter is perfect for this recipe. I dipped the apple slices in the batter first then on the griddle, then poured about 1/8 of a cup of batter slowly over the apple. I found that a med heat griddle was a little to cool so I used a hotter griddle temp. I served with apple butter. Thanks so much for sharing this recipe, one I will be making again. Made for My3Chefs game.
1

cup pancake mix (any type)
1⁄2 teaspoon cinnamon

1

egg

1

tablespoon oil

1

cup milk
Peel, core and slice apples using Apple/Peeler/Corer/Slicer. Or core the apple, peel it, and cut it into thin rings; set aside.
Combine remaining ingredients.
Heat lightly greased griddle over medium heat.
Place an apple ring on the griddle. Slowly pour 1/4 cup batter over apple ring, starting in center. Use just enough batter to cover each ring, Less then 1/4 cup.
Repeat with additional apple slices.
Cook until bubbles begin to appear. Turn, cook other side until lightly browned.
If any apple juice stays on Griddle, wipe it off with lightly oiled paper
towel. Serve pancakes with butter and maple flavored syrup.