Rita1652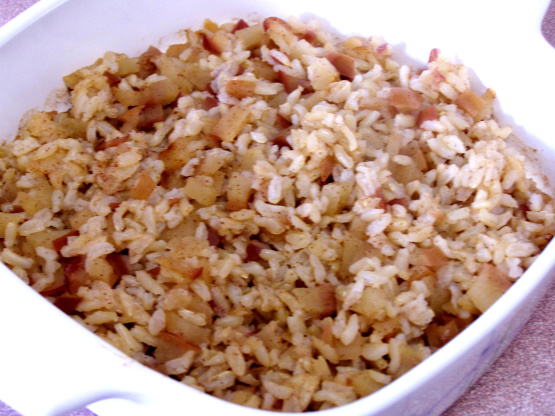 This delicious side dish is a real change of pace. The rice soaks up the juice from the apples and becomes plump and sweet. Leftovers can be used for breakfast, hot or cold, served with a dollop of yogurt. Recipe from the cookbook Lean and Luscious and Meatless.

This recipe is amazing! I halved it and made it for breakfast for my family, everyone loved it! It's really nice and healthy with both fruit and wholegrains :). Thanks for a great recipe!
Preheat oven to 350°F.
Lightly oil a 1-1/2 quart casserole or spray with a nonstick cooking spray.
In a large bowl, combine all ingredients.
Mix well.
Spoon into prepared pan.
Cover tightly and bake 45 minutes.
Serve hot.