Chef Jeff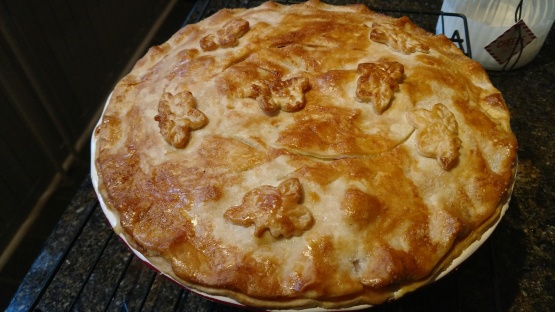 I'm always on the lookut for different ways to use rhubarb! This recipe from Sandra Gonzales was published in Country Woman magazine. Use your own pastry, store bought pie shells or my recipe for pastry with no trans fat or whole wheat canola oil pastry for a healthier pie! Cover the fruit mixture with a full crust, pastry lattice or the topping from my rhubarb crumble pie (Rhubarb Crumble Pie).

Wow! Wonderful taste! I made 2 pies, (1) exactly the way it was written. Fantastic! (2) I emphasized the orange zest and flavor and added the following: I used fresh orange zest and had wonderful oranges so I cut four thin slices, took the peel and white pithe off and split in little sections all over the bottom of the pie crust. Then put the filling in and covered. I used a full top and bottom crust. I will make both of these again and again. The tang of the orange against the rhubarb and apples was really great also. Some asked what is that great taste with the rhubarb and I think it was the eggs and the sour cream that brought the flavor out. Great recipe. Thanks for posting.
Combine first 5 ingredients in a bowl.
Stir in the fruit; add sugar& flour and toss to coat.
Pour into pastry shell.
Cover with crumble mixture.
Or cover with a full crust; trim, seal& flute edges and cut venting slits (cover edges loosely with foil).
Or cover with pastry lattice (cover edges loosely with foil).
Bake in lower third of a preheated 425F oven for 15 minutes; remove foil (if using), reduce heat to 350F and bake for an additional 40 to 45 minutes or until crust is golden brown.
Cool on a wire rack.