Apple-Raisin Stuffed Pork Chops
Rita~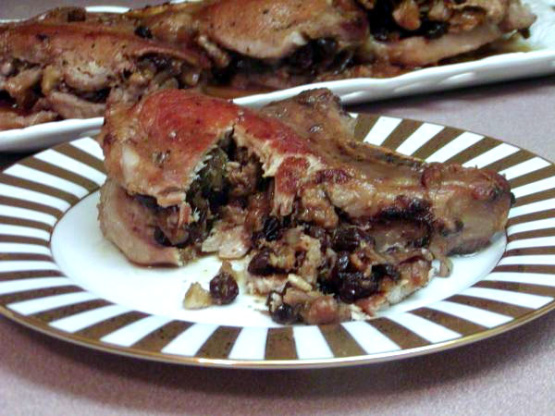 Posted this recipe in request. From Sun-Maid Raisins. Looks likes a lot of flavor, texture, and great ingredients.
This was a very tasty recipe.. I altered it a little: I used freshly diced apples (Fuji Apples) with the apple juice.. to which the apple juice was absorbed completely into the apples. I filled the pan with approx 1/4 inch of apple juice, that the pork chops cooked in the oven with.
236.59

ml apple juice

118.29

ml sun-maid dried apple (cut in chunks)

118.29

ml sun-maid seedless raisin

118.29

ml chopped walnuts

29.58

ml fine dry breadcrumbs

14.79

ml sugar

29.58

ml dry white wine

14.79

ml lemon juice

2.46

ml ground ginger

6

pork loin chops, cut 1 inch thick seasoned with salt pepper thyme

29.58

ml cooking oil
In saucepan combine apple juice and apples; simmer, covered, for 25 minutes.
Remove from heat.
Add raisins and let stand 5 minutes; drain, reserving liquid.
Combine cooked fruit mixture, walnuts, and bread crumbs.
Stir together sugar, wine, lemon juice, and ginger.
Add to bread mixture, tossing lightly to moisten.
Cut pockets in fat side of seasoned chops, cutting lengthwise to bone.
Spoon about 1/3 cup of the stuffing mixture into each pocket.
If necessary, use wooden picks to hold pockets closed.
In large skillet brown chops in hot oil.
Place chops in 13x9x2-inch baking pan.
Sprinkle chops with a little salt and pepper.
Add ¼ cup reserved apple liquid to pan, adding water if necessary.
Bake chops, covered, in 350°F oven for 1 hour.