WiGal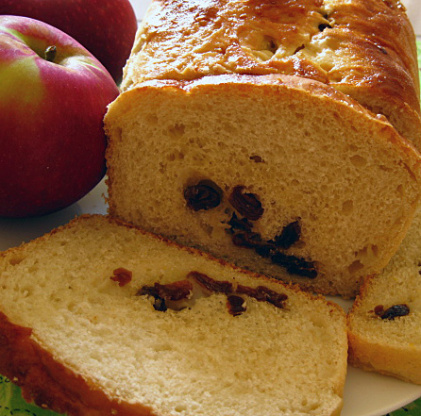 I really enjoy making bread in the colder months. This loaf is one that I have played with a lot and it works no matter what I do to it. I have added nuts, vanilla, cinnamon/ginger, changed the apples to dried cherries( non sugared). I have used applebutter in place of applesauce and trimmed down the honey. Well, you get the idea. 8" cake pans are the perfect thing for baking this bread. It will make 3 loaves.

Top Review by WiGal
Wonderful bread! And my 16 month grandson who has dairy allergies could eat this and gave it the MORE rating via signing. The toast is remarkable! I used my KA mixer to knead this-the entire flour amount (8 cups) and went just fine. For last rising, I put one third in an 8 inch pan, one third in regular size loaf pan, and remaining one third in two mini loaf pans-and they all fit into my oven at the SAME time and took almost 35 minutes to bake. I plan on using some leftovers for French toast and Recipe#278571. I can see after cutting it that I did need to mix in the fruit mixture better than I did. Today, am serving with a St. Croix Falls, Wisconsin wine, Recipe#364732, Recipe#46922, squash, corn on the cob,and Recipe#360356. Thanks Annacia for a keeper. Made for Photo Tag.
In a small bowl, combine yeast, 1/2 cup water and sugar; set aside. In a large bowl, combine eggs, applesauce, honey, oil, salt and remaining water; mix well.
Stir in yeast mixture.
Gradually add enough flour to form a soft dough. Knead on a floured surface until smooth and elastic, about 10 minutes.
Place dough in a greased bowl, turning once to grease top. Cover and let rise in a warm place until doubled, about 1 hour. Punch down and turn over in bowl.
Cover and let rise 30 minutes. In a small bowl, combine apples, raisins and lemon juice. Divide dough into three parts; knead one-third of the apple mixture into each part.
Shape each into round flat balls. Place each in a greased 8-in. round baking pan that has been sprinkled with cornmeal. Cover and let rise until doubled, about 1 hour. Brush each loaf with egg and sprinkle with sugar.
Bake at 350°F for 30 to 35 minutes or until brown sounds hollow when tapped.