Boomette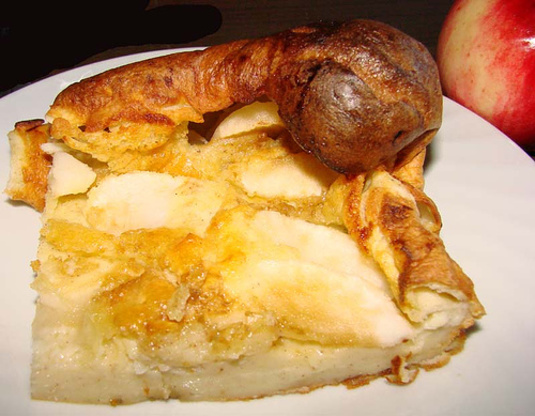 This is a delightful breakfast treat. This can also be served as a dessert, simply by doubling the cinnamon and sugar used, and serving a la mode.

This was easy to make and not too sweet. Which I liked. My children really enjoyed also.
Preheat oven to 425 degrees.
Combine eggs, milk and vanilla in the jar of a blender.
Blend until well combined.
Add flour, granulated sugar, salt, cinnamon, nutmeg.
Blend until dry ingredients are well incorporated, set aside.
Place butter in a 9x13 inch glass baking dish.
Transfer dish to oven and heat until butter has just melted.
Carefully remove from oven and place apples in a single layer in baking dish.
Return to oven and cook until butter begins to bubble, about 4 minutes.
Pour batter over apples, sprinkle with brown sugar, and continue baking until puffed and golden, about 20 minutes.
Sprinkle with confectioners' sugar, if desired; serve immediately.