stolljl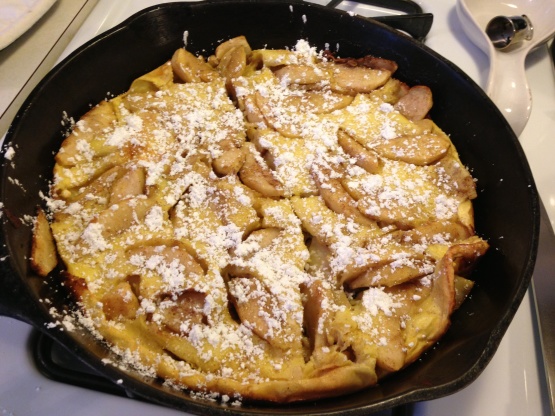 I found this recipe on relishmag.com. I haven't tried it yet but it sounds really good. I'll be making it with skim milk. Substituting peaches or pears for the apple would be good too. Time is estimate.

I found this recipe in 'The Best of Relish Cookbook', made it this morning and came in here to add it to the website so as not to lose it. I was delighted to find it already here! I made this exactly as written, though I sliced the apples into bite-sized pieces so they spread out more evenly in the pan. I used fat-free, lactose-free milk. It puffed up and browned beautifully in exactly 15 minutes and I served it immediately so the brown sugar wouldn't cool and harden in the pan. It was absolutely delicious! Serves 4? Um...my husband and I ate the whole thing. I plan on keeping Granny Smith apples on hand always so I can whip this up again....it's very quick and easy. Thanks for adding this Riverlivin!
Preheat oven to 450F and place rack in center of oven.
Peel, core and slice apple.
In a medium bowl, whisk together eggs, milk, flour and vanilla until smooth.
Melt butter in a 10-inch cast iron or other ovenproof skillet over medium heat. Spread apples in pan and cook for 4 minutes. Turn apples and continue cooking 3 minutes.
Sprinkle brown sugar and cinnamon over apples and cook another minute or until sugar begins to melt.
Remove pan from heat, stir apples lightly to coat with sugar, and then top with batter.
Bake 15 minutes at 450 degrees or until mixture puffs up and turns golden brown around edges.
Remove from oven and cut into four wedges.
Sprinkle with lemon juice and serve with a sprinkling of confectioners' sugar.