katew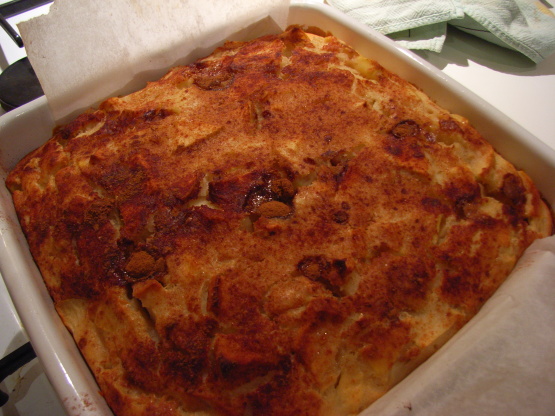 Super quick and easy. Can be a sweet breakfast or a fast dessert. Good Food Magazine, October 1986.

Made as written for your 2nd Football Pool win (except I used a 9-in sq non-stick baking pan). This was an easy-fix, tasty & served for a family breakfast w/bacon, fruit & scrambled eggs on-the-side. My only issue was the # of servings. There were 4 of us & I felt I needed to stretch the meal since it stated it served 2. Cut in quarters, the 4.5 in sq serving size was generous, would have been best w/just bacon + fruit & 4 servings will improve the nutritional data. That said, it was enjoyed by all. Congrats on your 2nd FP win & thx for sharing this recipe w/us.
Heat oven to 450 degrees. Coat bottom and side of 10-inch heavy skillet with 2 T. butter.
Whisk eggs, milk, flours, brown sugar, vanilla, and cinnamon in mixing bowl until completely blended. Stir in apples. Pour into skillet and spread apples evenly.
Bake until puffed and golden, about 15 minutes. Sprinkle with confectioner's sugar and serve at once.